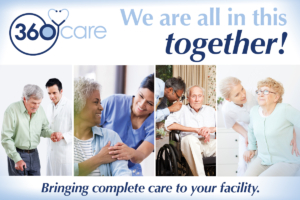 We know this is a difficult time for you – one with no historical precedent. The entire 360care family wants you to know that you, your entire staff, and all the residents are in our thoughts and prayers. Where and to the extent allowed, our providers are available to make on-site clinical visits.
As a part of the residents' care team, along with your staff and the primary care physicians, we take our obligations to help the residents maintain their quality of life and prevent further illnesses seriously, and have made a commitment to comply with all appropriate guidance and standards as related to COVID-19.
Here are the steps 360care is taking to comply with or exceed the standards laid out in CMS guidance while providing your residents needed care:
All of our clinical staff is being kept abreast of developments and recommendations regarding treating nursing home residents.
Our clinical staff already has had infection control training and should always be following appropriate infection control guidelines. Communications to reinforce this training have been made.
Any clinical staff coming to your facility will have completed a self-evaluation form (see attached) prior to traveling to your facility.
The clinical staff has been instructed to cooperate with any screening process put in place by your facility.
Prior to a clinical visit, we are checking with the facility to confirm the COVID-19 status at that facility. Residents experiencing any symptoms but for whom COVID-19 has not been confirmed should be rescheduled for another time.
360care – We Are Here For You!
Please enjoy this short message from the National Clinical Directors at 360care.  We are here for you off-site or on-site!
Tips for Nursing Homes
360care understand the need to keep the Residents of Nursing Homes safe.  During our absence at your facility our Clinical Directors offer these simple tips for Nursing Homes to help with the care of Residents.
Kids at various schools are creating artwork for the Residents of Nursing Homes
We know that the Residents of Nursing Homes are missing their loved ones who aren't allowed to visit during this epidemic.  Kids at several schools have created some very colorful artwork to help lift the spirits of Residents. Just click on the first image to see full screen, then click the arrows to advance to the next images.
Kids' Letters to Residents
Kids at local schools want to make sure that Residents in Nursing Homes are not left alone. These kids are writing letters to the Residents to show them how much they care.  Kids care! You are welcome to print these letters and hand them out to your Residents to spread some cheer.

Click to read and print Kids' Letters to Nursing Home Residents
Distributing Hand Sanitizers
360care partners with the Kentucky Association of Health Care Facilities to distribute hand sanitizer produced by Jim Beam distillery to nursing homes. 360care team member Thomas Jones shown here in Ashland, KY.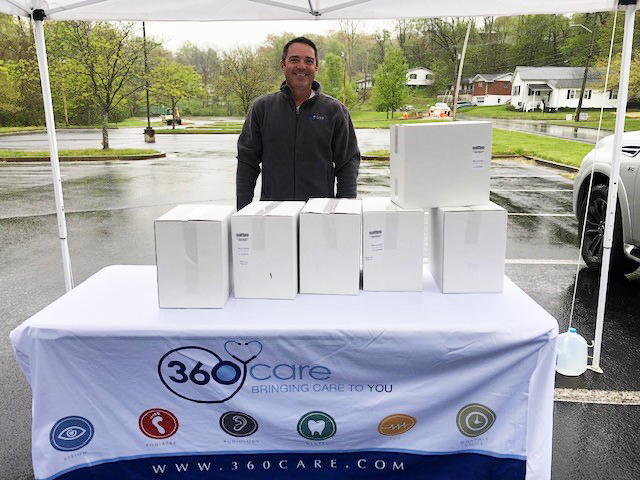 Yard Signs from 360care
Shannon McCullough, 360care Area Manager – Tennessee is holding a yard sign from 360care, thanking all our Healthcare Heroes!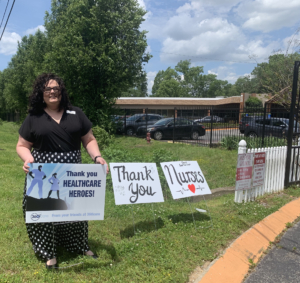 Southern Ohio Area Manager, John Anderson, showing our support to the Healthcare Heroes working in long term care facilities.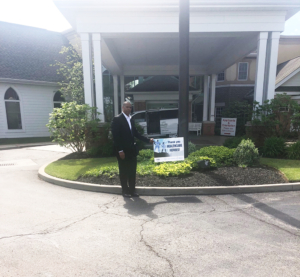 PPE materials donated by The TRECS Institute in cooperation with the Pennsylvania Health Care Association (PHCA) and LeadingAge PA.  300,000 surgical masks, 160,000 gloves, almost 2k Worthwhile Wear masks and 100 lawn signs were picked up and delivered to many facilities by the PA sales team.
Should you need any additional information, please reach out to your Care Coordinator